About Wessex Technology
For over 25 years, we at Wessex Technology have provided world-class secure imaging solutions. These easy-to-use postal imaging systems and authentication solutions reassure our clients while protecting their reputations and revenues. Our secure scanning systems have been deployed throughout Europe, USA and Asia by clients in demanding industries. These include Royal Mail and the United States Postal Service (USPS).
A team of highly skilled and experienced problem-solvers and innovators led by Chartered Engineer Alan Bell, we have what it takes to create reliable, robust solutions. Having become one of the first imaging companies to achieve ISO9001 accreditation in 1994 (then BS5750), our ongoing commitment to quality and continuous improvement is clear.

---
Our Past Achievements
The Duo Double-Feed Detector System and Postal Barcode Reader imaging system show our winning track record in delivering complex imaging solutions worldwide.
We were one of the first companies to offer the Duo Double-Feed Detector System as an aftermarket retrofit. It solves the problem of miss-sorts and mail jams while it maximises mail sorter throughput.
Rated "Best in Test" for USPS on street collection mail, the Duo was supplied to postal systems in the USA and Japan, as well as many other countries. In fact, the US bought almost 2000 systems – 800 of which are still in use – and this helped them to save US$3.5M per year in the re-handling of misdirected mail.
"From the start of the project we were looking for a solution that could eventually be integrated into all our sorting machines. That meant it had to be compact, low maintenance and possess high reliability. The Wessex Technology engineers worked closely with us to understand exactly what our requirements were, and the constraints of our existing systems. They were willing to make adjustments to the design and were constantly looking for ways to improve performance even further."
"More mail is delivered in a timely manner now. The Duo Double Feed Detector helps USPS to provide an enhanced level of customer service, reduces mail processing costs and helps to protect the stamp revenue base."
Carolyn Youngblood, Program Director, Technology Acquisition Management, USPS.
The Duo readers originally supplied to the USPS continue to run using the original hardware, machine learning algorithms and software. What is more, the Duo systems still process hundreds of millions of images every 24 hours.

The orange codes that you see on your letters are called Postal 4-State Bar Codes, these were developed between 1989 and 1992 by Wessex Technology in collaboration with Royal Mail and IBM. These fluorescent codes allow for individual letters to be identified as well as sorted efficiently and accurately.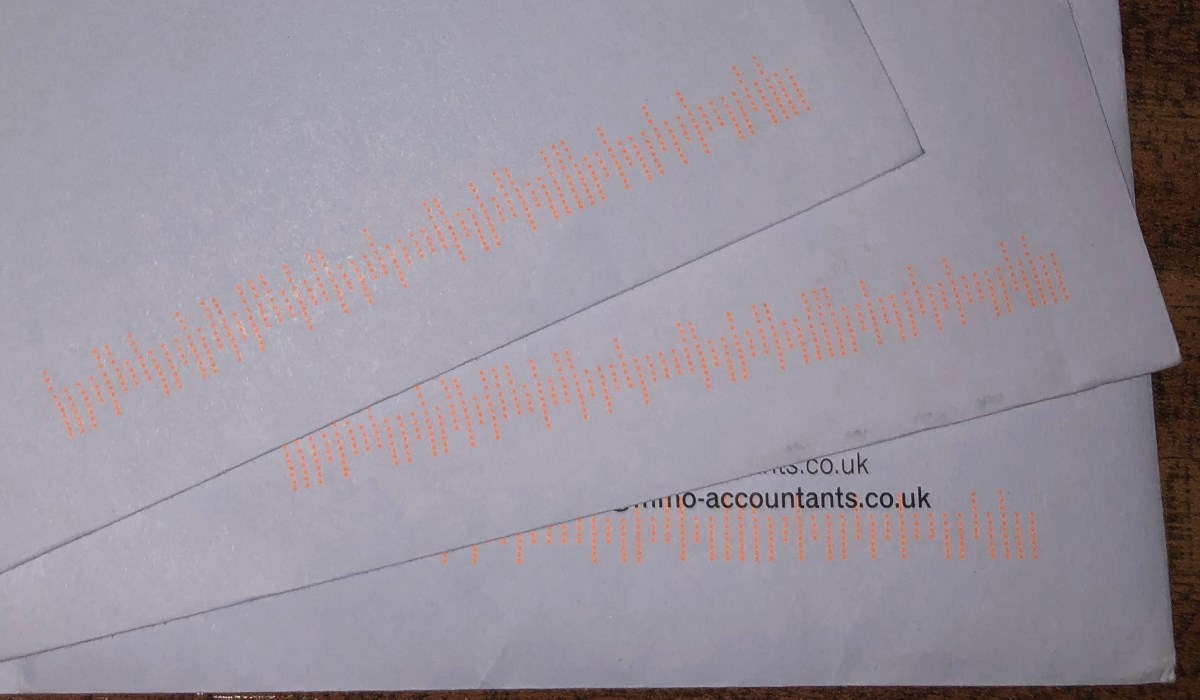 The 4-State Bar Code became a global standard and is the world's largest traceability system. In the first two decades of operation, Royal Mail anticipated the printing of 120 million codes every 24 hours and performed at least twice that number of code reads.
"An Post and Wessex Technology have had a long and productive relationship dating back more than a decade. Their imaging systems have played a significant role in reducing our re-work costs and improving our customer service. Their after-sales service has continued, professional and unabated, throughout the years and we hope to continue this relationship with future generations of postal sorting equipment."
Mark Devine, National Engineering Maintenance and Performance Manager, An Post.
---
Where We Are Now
Our latest creation is Countermark, a new type of barcode that can be read by both humans and machines. Fusing the latest internet technology with engineering expertise in optics, electronics and software, Countermark brings a unique approach to high-speed security marking for documents and products.
"Countermark has provided us the solution which uses the latest technology to secure, authenticate and validate our certificates."
"Countermark team's customer first approach has made it easy to deal with them and they have been supportive and helpful throughout the process, beyond expectations."
Sari Leino, Compliance Director International, ACM-CCAS Limited.
A careful system design with multi-level encryption for ultimate cyber security that combines with transparent technology – everyone can see our countermarks and check them – Countermark provides excellent brand protection for our clients.
Those already making the most of Countermark include training and membership organisations (both small and large), international food producers and countries that wish to export to the UK.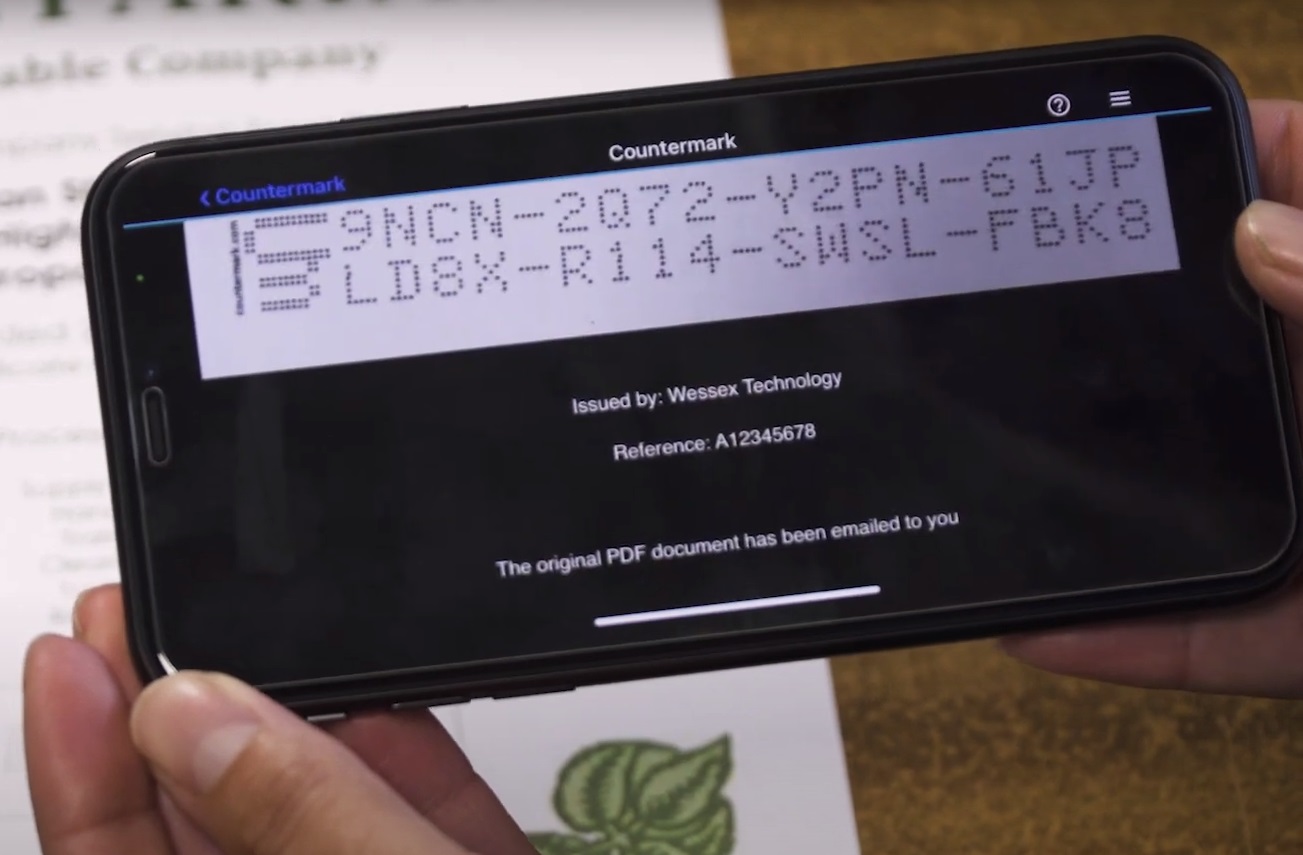 One of Countermark's first triumphs was in helping to protect the validity of a certificate reported to us by an independent accredited certification company. An ISO registration certificate had been replicated with some critical information altered. Using the Countermark App, it was easy for a UK corporate purchaser to see the altered information on the presented certificate. A director at ISO-Accelerator told us about the discovery:
"ISO-Accelerator is committed to the integrity of our digital certificates and opted to use Countermark because of the security it provides to our customers. People wishing to check our Countermarked certificates of ISO registration only need to install the [Countermark] app, check the Countermark and receive an email with the original certificate attached. What could be simpler?"
"At ISO Accelerator, we want to use the latest technology to provide certification services in a simple, safe and secure manner. We use the Word add-in to add the Countermark to the certificate and store it in the cloud. By using the Countermark app for validation, we don't need a phone bank of people answering enquiries regarding certificate validation. This helps us to provide services at a competitive price without compromising quality"
Tiffany Bartusevics, ISO Accelerator.
---