Country-of-Origin food fraud and other food safety concerns
30th March 2023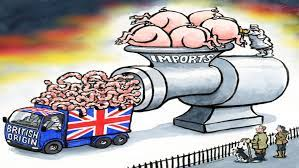 Farmers Weekly reported (29/03/2023) that there is yet another food fraud scandal within Britain's food retail sector, this time concerning Country-of-Origin of foreign pork.  With a particular food manufacture being scrutinised for their inadequate food processing procedures causing serious food safety risks to the public.  (see Food Fraud link below)
The Farmers Weekly article indicates that a number of major food service outlets and food distributers were supplied with tainted meat products which was then transferred into their pre-made products, such as ready meals and sandwiches.  Also, schools, hospitals, care homes and prisons were reported to have received unsafe meat products.
According to Farmers Weekly, the manufacture used the traceability data for a small volume of British meat that is retailer-approved supplier but then applied the information to a bigger volume of product which was not British meat.  They also falsified records so there were 2 versions of data if an outbreak of food poising occurred, one fraudulent set and the originals.
Transparent traceability is key, Countermark is a solution.  Countermark provides a unique way to digitally sign paper or electronic documentation within a supply chain for food products.  This process extends to the retail packaging allowing customers to check where their food has come from.
The Countermark Beef traceability model developed by Wessex for Australian Meat Processing Corporation (AMPC) treated every record as a secure document as soon as the record was created.  It also implemented full mass balancing to prevent Country-of-Origin fraud.  Mass balancing correlates the weight of particular type of product used in a process and matches that to the raw material brought by the meat processor.
More information about the AMPC project can be found on their website, see link below.
More Information:
Food Fraud Link
https://www.fwi.co.uk/news/exclusive-mass-food-fraud-and-safety-scandal-engulfs-sector
with Picture Credit to David Simmons
AMPC Project link
https://www.ampc.com.au/research-development/advanced-manufacturing/traceability-primal-to-steak-steak-to-primal-(stage-2)