Key document may be fake in LGBTQ+ rights case before US supreme court
5th July 2023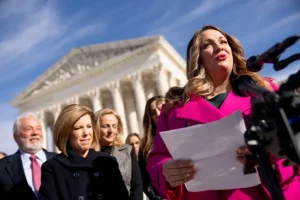 Key document may be fake in LGBTQ+ rights case before US supreme court
Christian website designer says she received email request from same-sex couple but 'author' says he did not send it – and is not gay.
The Countermark team know it hard to check if a document is genuine – that is why we developed Countermark – but when possibly fake documents are presented to the Supreme Court in the USA – the worlds most powerful democracy – it is time for everyone to get serious about document security.
If your company / school / college / non-profit / charity / startup / legal practice / farm / dairy / bakery / auditor / product test house (or any other kind of outfit) produces documents that people need to rely on you need to contact us.
Adding a Countermark to your documents, takes a copy of the document, hashes, encrypts it, stores a copy of the Microsoft Cloud, identifies who created it and when it was created.
If anyone has any doubt about it then they can obtain the original copy of the document in seconds using the Countermark app. As the document creator you can see who has checked the document.
More information at (Countermark website)
Link to the full article is here (guardian website – no paywall)
https://www.theguardian.com/law/2023/jun/29/supreme-court-lgbtq-document-veracity-colorado
Photo credit: Andrew Harnik/AP