Visit to MADE at the University of Wales TSD in Swansea
20th September 2023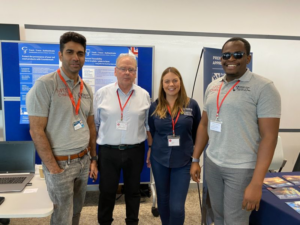 (From Left to right: Mahesh Kannath, Alan Bell, Emily Hunt and Odayne Haughton)
Visit to MADE at the University of Wales TSD in Swansea
I recently attended MADE at the University of Wales TSD in Swansea.  I talked about food traceability and provenance using blockchain with Emily Hunt, Odayne Haughton and Mahesh Kannath from the university.
Odayne has published a great paper on the seafood traceability and sustainability.
Emily also explained that UWTSD is the UK's number 1 university for Apprenticeship degrees. These new degrees allow candidates to work and study at the same time, and are ideal for people looking to change career or simply want to have an industry focussed degree.
Countermark is secure, controlled and designed to work with the printers already widely used in the food industry.
More information at www.Countermark.com